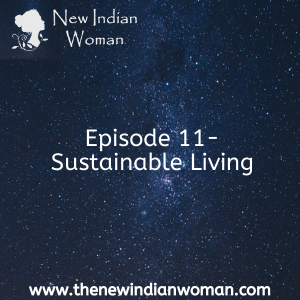 Have you examined your lifestyle and what you do on a daily basis from a different angle - in terms of how it impacts our environment ? Would you believe if I tell you that you may be doing so many things that are harmful to the environment ? Do we want to actually continue doing this ? Is it possible to create an impact from a small change that you do ? I hope these questions interest you..
As you may already be aware, this podcast has 2 focus areas. One, We examine the challenges faced by today's Indian woman and proposes ACTIONABLE strategies in the Indian context, on a wide variety of topics - right from identifying their passion to better productivity and parenting.  Second,  We meet women who chose to aspire or have a dream beyond their defined roles  and facilitates sharing of what worked and what didn't, for them. Today's episode falls in the first focus area.
 And in the process, my aim is to help  you, the new Indian woman, to realize your potential, chase your dreams and aspirations, utilize the wonderful opportunities available in today's world.
What's in this episode:
This episode focuses on what we can do to live in a more sustainable manner.
Be it our choices of what we buy, how we dispose the waste, what all we choose to use - every single thing has an impact. The journey is also about being aware of this impact and deciding what choices to make.
In this episode I share some of my practices, not that I am an expert. Prabha of Blumadegreen also has shared quite a few things that she does or doesn't do, in this episode.
I am eager to know what all you have tried in this area - do write to me at krishna@thenewindianwoman.com. If you would like to engage with like minded friends, come over to http://facebook.com/newindianwoman
 Do share this episode with your friends  and do subscribe to http://thenewindianwoman.com website .