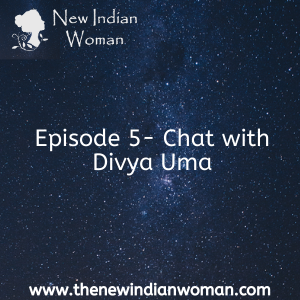 Description :  
Chat with Divya Uma,faculty at Azim Premji University, Bengaluru. We discuss the areas of her focus in the University, the role of her mom in her life and how she manages to find time for all her interests.
As you may already be aware, this podcast has 2 focus areas. One, We examine the challenges faced by today's Indian woman and proposes ACTIONABLE strategies in the Indian context, on a wide variety of topics - right from identifying their passion to better productivity and parenting.  Second,  We meet women who chose to aspire or have a dream beyond their defined roles  and facilitates sharing of what worked and what didn't, for them; like today's episode.
And in the process, my aim is to help  you, the new Indian woman, to realize your potential, chase your dreams and aspirations, utilize the wonderful opportunities available in today's world.
What's in this episode:
In this episode, Divya shares about her interest in Biology right from when she was young and the factors that influenced her in choosing  her current area of interest, namely, Animal Behaviour.
 We hear about the role of her mother in not putting pressure on her career choice and how she helped her in finalizing her course of preference and insisted she live in a hostel. Also,  how Divya used the opportunities around her to shape her career and even now, in how she spends her free time.
 We get to know about the nature of work involved in a top university which goes much beyond taking classes for students. It is interesting to hear the techniques she uses for managing her stuff and her free time, as well as her evolution from being shy to a confident person.
Please do not miss a message that she has, towards the end of this episode.
The quality of audio in this episode is not that great, considering the extent of editing required to mask the sound of a carpenter who chose to work next door after we started recording the episode!! Sorry about that..
You could reach out to Divya Uma via email, mailto: dbuorama@gmail.com
Do share this episode with your friends  and do subscribe to thenewindianwoman.com website or write to me at krishna@thenewindianwoman.com.