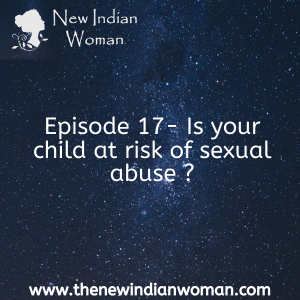 Caution: Listener discretion advised considering the topic.
We keep hearing about reports of Child Sexual Abuse and worry about our children. Or, we ourselves have memories we would like to hide further. Isnt it time we understood more about this ? Do we realize that what we know already about child abuse and child sexual abuse is likely to be not based on facts? Yes, our sons and daughters don't tell us because we create that atmosphere at home, maybe unknowingly ?
It is time we understood more on this topic, yes, this typically taboo topic. Listen to  the conversation with Kalpana Purushothaman who has worked with children and adult survivors of child sexual abuse for several years.
What the New Indian Woman podcast is about
As you may already be aware, this podcast has 2 focus areas. One, We examine the challenges faced by today's Indian woman and proposes ACTIONABLE strategies in the Indian context, on a wide variety of topics - right from identifying their passion to better productivity and parenting.  Second,  We meet women who chose to aspire or have a dream beyond their defined roles  and facilitates sharing of what worked and what didn't, for them. Today's episode falls in the first category.
And in the process, my aim is to help  you, the new Indian woman, to realize your potential, chase your dreams and aspirations, utilize the wonderful opportunities available in today's world.
What's in this episode:
We start examining popular myths around child sexual abuse(CSA) - on boys vs girls, of why we hear about this more these days, risk during vacation... We move on to how law enablement has actually helped each one of us regardless of whether we want to report a case of CSA.
We try to understand abuse and then what all comes under CSA. Yes, even bullying can come under this! How CSA can happen even without any physical contact and why it is impractical on our part to expect our children to talk about this in the current context.
We discuss to what extent CSA impacts children and what all influences this, why children who are abused once become more vulnerable and finally, what does it mean for us as parents.. What is it that we should know, how do we accept this can happen in our homes and how to react to the child?
Listen and share with all the women in your life..
To Connect with the guest
Mail to :  Kalpu.purush@gmail.com
If you liked this episode, please help this reach more people by sharing this podcast with friends and family. Don't forget to like our Facebook page.
Get in touch
Website : http://thenewindianwoman.com
Facebook : http://facebook.com/newindianwoman
Email : krishna@thenewindianwoman.com
Subscribe
Use the link corresponding to your favourite Podcast App to listen to the latest episode and do not forget to click on Subscribe :
Castbox :http://bit.ly/castboxniw
Apple Podcast :http://bit.ly/appleniw
Stitcher :http://bit.ly/stitcherniw
Spotify :http://bit.ly/spotifyniw
Radiopublic: http://bit.ly/radiopublicniw
Podbean: http://bit.ly/podbeanniw
TuneIn: http://bit.ly/tuneinniw