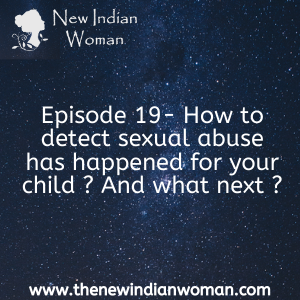 In the previous 2 episodes we tried to understand more about Child Sexual Abuse and how to prevent it. In this episode, we get into practical steps of what you, as a mother, should do to detect if it has happened for your child. Then there are practical steps on what next - how you should or should not respond, the importance of taking professional help and how it helps the child and everyone around the child to deal with the situation. And most importantly, the repercussions of not detecting and taking adequate steps.
Listen to  the conversation with Kalpana Purushothaman who has worked with children and adult survivors of child sexual abuse for several years.
What the New Indian Woman podcast is about
As you may already be aware, this podcast has 2 focus areas. One, We examine the challenges faced by today's Indian woman and proposes ACTIONABLE strategies in the Indian context, on a wide variety of topics - right from identifying their passion to better productivity and parenting.  Second,  We meet women who chose to aspire or have a dream beyond their defined roles  and facilitates sharing of what worked and what didn't, for them. Today's episode falls in the first category.
And in the process, my aim is to help  you, the new Indian woman, to realize your potential, chase your dreams and aspirations, utilize the wonderful opportunities available in today's world.
What's in this episode:
This is the final episode in the 3 part series on Child Sexual Abuse. In this episode, Kalpana take us thru 4 steps that we as moms should take up, to detect if abuse has happened for our child, regardless of the age of the child. These are easy and very relatable steps with examples.
She moves on to how the initial conversation with the child should be and why it is important to detect. She guides us on how to practice with our children on consent in a very down to earth way - be it with toddlers or the adolescents.
We talk about the stigma about going to therapy and why it is important to take professional help. She explains the ways in which the professional can help not just the child but the parents and the immediate family and even the "abuser". She shares how we can find professional help, regardless of whether we are in a city or a small town. She shares how it is definitely possible for the child to come out of the trauma and how the inner circle has to participate in the healing.
Listen and share with all the women in your life.. Yes, of course, you could reach out to Kalpana in case this touches you and you would like to open up with her!!
To Connect with the guest
Mail to :  Kalpu.purush@gmail.com
If you liked this episode, please help this reach more people by sharing this podcast with friends and family. Don't forget to like our Facebook page.
Get in touch
Website : http://thenewindianwoman.com
Facebook : http://facebook.com/newindianwoman
Email : krishna@thenewindianwoman.com
Subscribe
Use the link corresponding to your favourite Podcast App to listen to the latest episode and do not forget to click on Subscribe :
Castbox :http://bit.ly/castboxniw
Apple Podcast :http://bit.ly/appleniw
Stitcher :http://bit.ly/stitcherniw
Spotify :http://bit.ly/spotifyniw
Radiopublic: http://bit.ly/radiopublicniw
Podbean: http://bit.ly/podbeanniw
TuneIn: http://bit.ly/tuneinniw