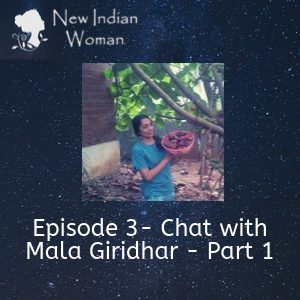 Description
Chat with Mala Giridhar, a clinical psychologist from Sirsi. Let us find out how she was able to go beyond her job and run multiple projects for the community, impacting youngsters and their families, involving local resources.
As you may already be aware, this podcast has 2 focus areas. One, We examine the challenges faced by today's Indian woman and proposes ACTIONABLE strategies in the Indian context, on a wide variety of topics - right from identifying their passion to better productivity and parenting.  Second,  We meet women who chose to aspire or have a dream beyond their defined roles  and facilitate sharing of what worked and what didn't, for them; like today's episode.
And in the process, my aim is to help you, the new Indian woman, to realize your potential, chase your dreams and aspirations, utilize the wonderful opportunities available in today's world.
What's in this episode:
In this episode, Mala looks at her primary roles in her house, her movement from a big city to a small town and her projects and their unique nature. She shares her passion for her field of work and choosing projects that impact the community very closely related to her area of work.
The challenges and some of the techniques shared are so relevant for each one of us, though our context may be different.  She talks about how home should be a place for us to share our frustrations, what helped her the most and challenges faced as a woman in Part 1 of this chat.
Please checkout the facebook page for the Occupational Rehabilitation Centre Chetana at www.facebook.com/chetanaproducts30/. You could leave a message there to get in touch with Mala.
 Do share this episode with your friends  and do subscribe to thenewindianwoman.com website or write to me at krishna@thenewindianwoman.com.
Picture : Mala harvesting figs at her home