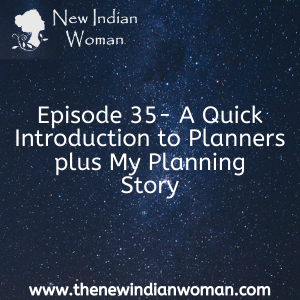 Welcome to Planner World! If you are someone busy chasing deadlines and making sure the most urgent tasks are done, this episode is for you. On the other hand, if you are someone who diligently keeps track of to do lists and get a kick out of crossing off items in the to do list, this episode is for you as well. Whether you are someone who is very systematic or you revel in creative chaos, you would definitely gain from using a planner.
Confused ???
And, what exactly is a planner ? How to use a simple notebook as a planner ? Is it too complicated ? What is the biggest advantage of using a planner ?
I try to answer many of these questions and also introduce you to how I plan in this short episode.  Listen on ..
What the New Indian Woman podcast is about
As you may already be aware, this podcast has 2 focus areas. One, We examine the challenges faced by today's Indian woman and proposes ACTIONABLE strategies in the Indian context, on a wide variety of topics - right from identifying their passion to better productivity and parenting.  Second,  We meet women who chose to aspire or have a dream beyond their defined roles  and facilitates sharing of what worked and what didn't, for them. Today's episode falls in the first category.
And in the process, my aim is to help  you, The New Indian woman, to realize your potential, chase your dreams and aspirations, utilize the wonderful opportunities available in today's world.
What's in this episode:
 In this episode we look at how having a planner will help you focus on what you want to do. If you already feel you are there, focussing on what you want to do, then, using a planner will definitely give you peace of mind. We examine how in this episode.
If you are someone who wishes there was more than 24 hours in a day OR
If you are waiting for some day in the future when you will have more time to pursue your passion project or hobby OR
If you are someone who wonders how someone else is able to pack so much in their life whereas you are barely there OR
If you are someone who is trying to keep track of what all needs to be done today or this week… OR
Let me stop here..I hope you got the general idea..
If you are new to the word Planner, let  me tell you, it is just a book, like a diary. We get into the details of why and how it is different from a diary.
I go thru my planner, share examples of how it is different from keeping track of to do items and how it helps me.. And how to recover from those periods when life takes over and you need to start again..
And, of course, there is no expectation for you to buy a planner - you could start with a simple note book!!
Listen to lot of practical tips on using a planner in this short episode.
I welcome you to the planner world!
If you liked this episode, please help this reach more people by sharing this podcast with friends and family over Facebook, LinkedIn, Twitter and Pinterest. Don't forget to like our Facebook page.
Get in touch
Website : http://thenewindianwoman.com
Facebook : http://facebook.com/newindianwoman
Email : krishna@thenewindianwoman.com
Twitter : https://twitter.com/thenewindianwo1
LinkedIn: https://www.linkedin.com/company/thenewindianwoman
Subscribe
Use the link corresponding to your favourite Podcast App to listen to the latest episode and do not forget to click on Subscribe :
Castbox :http://bit.ly/castboxniw
Apple Podcast :http://bit.ly/appleniw
Stitcher :http://bit.ly/stitcherniw
Spotify :http://bit.ly/spotifyniw
Radiopublic: http://bit.ly/radiopublicniw
Podbean: http://bit.ly/podbeanniw
TuneIn: http://bit.ly/tuneinniw